Discover more from A-Frame Dream Journal
The latest A-Frames to hit the market and more.
Over 3,000 subscribers
34 Acres in PA, a New Book I'm Excited About and a Perfect A in Washington
I'm so tempted by this house in Clifford Township...
For Sale
Clifford Township, PA 3 bd 1 ba 2,245 sqft 34 Acres! Listed By: Danielle Dalessandro Next Door Real Estate Llc 570-880-4663
Columbus, GA 5 bd 4 ba 4,208 sqft Listed by: Debbie Young 229-942-6853 Bickerstaff Parham, LLC
Hartsel, CO 5 bd 4 ba 4,208 sqft Listed by: Jimmy Anderson 719-836-2480 jimmysf250@aol.com TWIN CREEK REALTY
Read
I was very much inspired by Cheap Old Houses when I started A-Frame Dreams and they just announced that they have a book coming out. Better yet, there is going to be an a-frame in it! I can't wait to get my hands on a copy when it comes out in October. You can pre-order one of your own here.
Stay
I just stumbled upon this house today and I'm in LOOOOOVE! Not only would I want to visit, I want to live here every day. This exterior is perfect and the interior is so much fun! 10/10
Become a paid subscriber to get all of the A-frames I find on the market straight to your inbox.
More for sale…
New Lisbon, WI 2 bd 1 ba 1,084 sqft Listed by: Dan Macklin Pref:608-344-8044 Castle Rock Realty LLC
Fort Worth, TX 2 bd 2 ba 2,136 sqft Listed by: Jeffrey Miller 0582899 817-366-5468 J Brent Realty Group
Truckee, CA .42 Acre Listed by: Nancy Costello 530-582-5005 Tahoe Truckee Brokers Bill Kenny 530-448-0694 Tahoe Truckee Brokers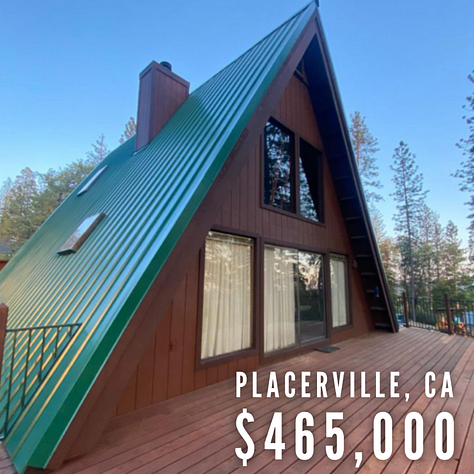 Placerville, CA 2 bd 2 ba 1,488 sqft Listed By: Stefani Rutledge RE/MAX Gold Fair Oaks
Elizabeth, IL 3 bd 1 ba 856 sqft Listed By: KATIE MCPEEK 815-821-1322 Jim Sullivan Realty
Ledbetter, KY 1 bd 1 ba 775 sqft Listed By: Cynthia Akins 270-703-1024 RE/MAX Real Estate Associates
Auberry, CA 2 bd 3 ba 1,900 sqft Listed By: Jeri Kuddes DRE #01170178 559-259-9992 Guarantee Real Estate David Sheppard DRE #01326259 Guarantee Real Estate
Maurertown, VA 2 bd 2 ba 1,013 sqft Listed By: Lori Hoffman 540-481-0802 Preslee Real Estate
Ocean Shores, WA 3 bd 3 ba 1,168 sqft Listed By: Hal M Bennett Redfin