Discover more from A-Frame Dream Journal
The latest A-Frames to hit the market and more.
Over 3,000 subscribers
A Cutie in VA and We Ordered The Tiny Baby Cabin!
I'm also sharing a bunch of off grid a-frames that you can stay in if you want to check out that life.
For Sale
Front Royal, VA 2 bd 1 ba 656 sqft Listed By: Destiny Largent 540-533-
Madison, WI 2 bd 1 ba 1,068 sqft Listed by: C.J. Postawa Pref:608-512-5323 Accord Realty
Camp Project Progress
We ordered the cabin! Last weekend we went up to the shed builder and looked at all of the color options and wound up going with driftwood for the siding and burnished slate for the roof. The total came to just under $7,500, including tax, delivery, and the metal roof that has some insulation in it. We had to put 25% down for them to get started, and then we pay the rest when it is delivered. He said it will take about a month for them to build it. Here is a rendering of how it will look on the campsite. I think the scale is off, but you get the idea. Oh, and the door will be white when it is delivered, so I have to pick a paint color for that as well.
The next step is to have the site prepped for delivery, so we have to have someone come and deliver a truckload of stones and level the site. We talked to a guy last weekend when we were there, and I'm just waiting on him to let me know how much that is going to cost and when he will be able to do it. Next week, I will share the long list of things we need for the interior and what I purchased already!
Stay
Since we're talking about off-grid a-frames, I found a few that you can stay in!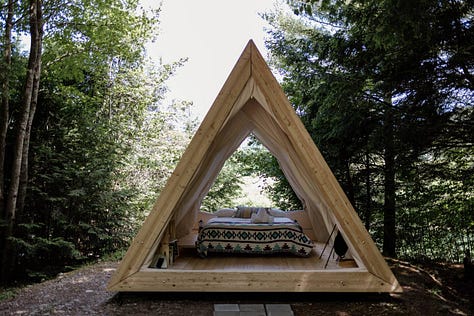 Become a paid subscriber to get all of the A-frames I find on the market straight to your inbox.
More for sale…
Grand Lake, CO 1 bd 1 ba 1,000 sqft Listed by: Donna Ready 970-627-3103 readydonna@gmail.com MOUNTAIN LAKE PROPERTIES
Lakeside, OR 3 bd 1 ba 1,114 sqft Listed by: Trina Mattoon 541-269-0355 Seaboard Properties Olivia Santos-Krieger 541-260-4509 Seaboard Properties
Oxford, MS 3 bd 1 ba 1,419 sqft Listed by: Leshia G Martin Martin Management 662-801-7833
Astor, FL 2 bd 1 ba 1,725 sqft Listed By: Bill House 386-451-2721 River Realty Group 352-759-2362
Sparta, KY 3 bd 2 ba — sqft Listed By: Bradley Treas 859-801-1088 Huff Realty - Florence The Treas Team 859-525-7900 Huff Realty - Florence
Roseville, OH 3 bd 2 ba 2,600 sqft Listed By: Lepi & Assoc. Christy Hambel 740-252-8414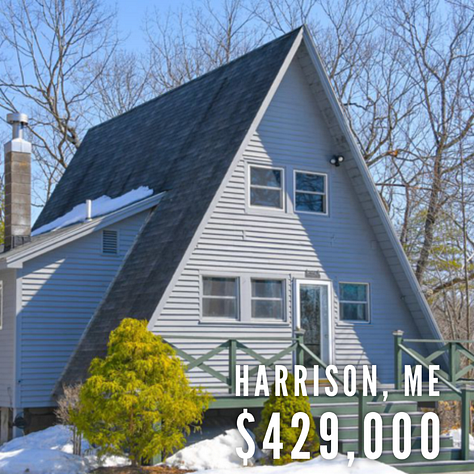 Harrison, ME 3 bd 2 ba 1,820 sqft Listed By: Chalmers Realty
Lindale, TX 2 bd 2 ba 1,180 sqft Listed By: Tim Schlesener 903-330-6065 Leslie Cain Realty, LLC
Connelly Springs, NC 2 bd 1 ba 1,672 sqft Listed By: Kathy Klemm kathy@yanceyrealty.com Yancey Realty LLC
Central, UT 2 bd 1 ba 1,059 sqft Listed By: Brian Hickman 435-632-8200 REALTY EXECUTIVES
Mustang, OK 1 bd 1 ba 1,080 sqft Listed By: Heather Rainer 405-922-0809 Skybridge Real Estate
Lac Du Flambeau 2 bd 2 ba 2,116 sqft Listed By: JCoralee Erickson 715-892-1916 LAKEPLACE.COM - VACATIONLAND PROPERTIES
Tahoe City, CA 2 bd 1 ba 1,152 sqft Listed By: Roland Lawrence 530-583-1529 Lawrence Realty
Broken Bow, OK 3 bd 3 ba 1,927 sqft Listed By: Savanna Schrader 918-839-1464 Keller-Williams Platinum
Meredith, NH 2 bd 1 ba 667 sqft Listed By: Performance Real Estate Group 603-889-7600 BH&G, The Masiello Group Lynne Monk 603-889-7600 BH&G, The Masiello Group