Discover more from A-Frame Dream Journal
The latest A-Frames to hit the market and more.
Over 3,000 subscribers
A New Build in Georgia, More Camp Progress and a Cute Brick A in the Brazilian Countryside.
Inventory is very low right now, but some cuties popped up on the market today that got me excited.
For Sale
Lavonia, GA 3 bd 2 ba 1,500 sqft Listed By: Pam Fields 706-436-9347 Charlene's Lakeside Realty
Jenner, CA 1 bd 1 ba 875 sqft Listed by: Tim Cullen DRE #01343017 Berkshire Hathaway 415-329-6790
Camp Project Progress
First of all, shout out to Nate at Pine Creek Structures for being so patient with me bc I probably drove him crazy this week with my indecisiveness! ANYWAY, we are going to start with the structure that has the 5 ft wall that I found on FBMP and then bring in the 2nd mini a-frame down the road, maybe later this summer or next summer. The original quote, with a metal roof, came back for $7,000, much less than the one I saw on FBMP. I then downgraded to an asphalt shingle roof to save $600, and then I added another door, more windows, and a vent in the roof so that we can add insulation down the road if we wanted to, so the quote went back up to $7,000, and now I'm adding back the metal roof. The whole thing is going to cost about $7,600, including tax and delivery. We are also going to have to have someone come out, and prep the site to make sure it is level before they deliver the cabin, and I have no idea how much that costs. Nate told me that their average lead time is 2-3 weeks, but since this is a custom build, it will be more like 4-6 weeks. I'm going there tomorrow to give them a 25% down payment to get things started! Here is a terrible rendering to give you a vague idea of how things will look.
Next on my list is to figure out which color siding and roof we want. My instinct is to just go with black on black and keep it simple, but since we don't have insulation, I feel like going with dark colors will attract heat, and I will regret it. Below are all of the colors I have to choose from. Substack won't let me open up commenting uless you are a paid subscriber, so if you have any input, please feel free to e-mail me your opinion on colors because I have no idea! I really only like the burnish slate color for the roof, but it's so dark. Or should I just not care and go with dark anyway?! IDK!
Stay
This absolutely adorable brick A-frame in the Brazilian countryside is only $23 a night! There are farm animals and an orchard to explore! This looks like a perfect place to run off to for a few weeks since it will only cost you about $165 per week. This is taken right from the listing: "Guests can access the courtyard, orchard, garden, sheds, foal, and Cachaçaria. One tip is to bring older shoes so you can explore the place without worrying." I know nothing about the Brazilian countryside, I am just basing my recommendation on how cute this house is, so do your research first, as always.
Become a paid subscriber to see the rest of the A-Frames I found for sale before they hit my website.
More for sale…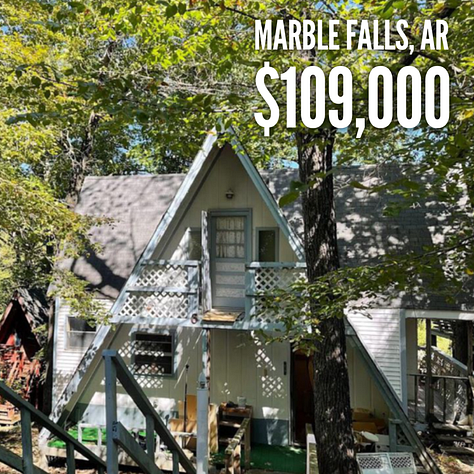 Marble Falls, AR 4 bd 2 ba 1,324 sqft Listed by: Jake Jacobs CENTURY 21 ACTION REALTY 870-741-3408
Wright City, MO 2 bd 2 ba 2,000 sqft Listed by: Steven Waters 314-603-2582 Innsbrook Properties, Inc.
Nehalem, OR 4 bd 3 ba 3,120 sqft Listed by: Brett Veatch 503-708-4663 Berkshire Hathaway HomeServices NW Real Estate
Keshena, WI 3 bd 2 ba 1,248 sqft Listed By: Lisa Wilson 715-853-9227 Hometown Real Estate & Auction Co., Inc.
Mountainburg, AR 2 bd 2 ba 1,386 sqft Listed By: Property Owner (972) 989-9900
Rapid City, SD 1 bd 2 ba 1,482 sqft Listed By: Jeremy Kahler Keller Williams Realty Black Hills SP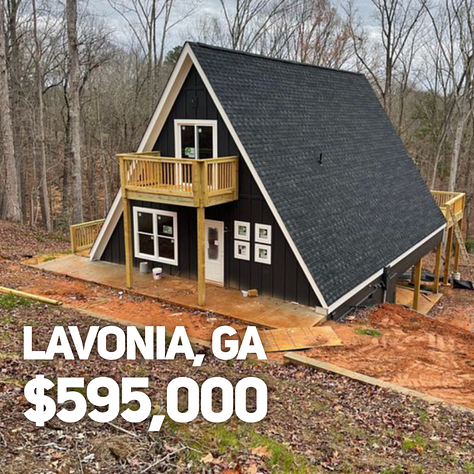 Lavonia, GA 3 bd 2 ba 1,500 sqft Listed By: Pam Fields 706-436-9347 Charlene's Lakeside Realty
Brooklyn, MI 4 bd 3 ba 2,123 sqft Listed By: John DesJardins 734-250-1500 Downriver Property Experts LLC 734-250-1500
Anniston, AL 3 bd 3 ba 2,088 sqft Listed By: Jeff Burney 256-453-6733 Keller Williams Realty Group