Discover more from A-Frame Dream Journal
The latest A-Frames to hit the market and more.
Over 3,000 subscribers
An A-Frame in a City, Things I Purchased For the Shed and Some Pretty Places to Visit
Just a couple more weeks until our cabin is delivered!
For Sale
Charlotte, NC 3 bd 3 ba 2,502 sqft Listed By: Suzanne Severs team.severs@allentate.com Allen Tate SouthPark Timothy Severs 704-564-7346 Allen Tate SouthPark
Stevensville, MI 2 bd 1 ba 925 sqft Listed by: Tammy L Kerr 616-218-0873 CENTURY 21 Affiliated 269-857-2121
Camp Project Progress
This week I spent most of my free time looking for things to fill the cabin. I want to purchase as many second-hand pieces as possible, and I told myself I wasn't going to spend more than $100 on any single item. I knew it was going to be tough to find a sofa bed for $100. I searched nearly every day and finally found the striped one pictured below listed for $110! I like the shape of it, as most $100 sofa beds on FBMP are very large and have huge roll arms if not stained, which is not something I want in this camping structure. I thought $110 was a bargain compared to other pieces I had come across. The guy selling it told me that a lot of people were interested in it, and it was first come, first serve, and he wouldn't be home until Saturday (which was 5 days away) if I wanted to pick it up. I told him I would give him $150 for it, and I Venmoed him a deposit to hold it for me until I was able to pick it up. He agreed, and now I have a striped sofa bed. I have slight buyer's remorse, but I'm going to make it work! I was just tired of looking and not willing to spend $500+ on this piece. I have to keep telling myself that THIS IS FOR CAMPING, not my main residence. Here are the items I have so far:
Hanging chair I found on the side of the road for FREE like 6 years ago. I've been hoarding it in my basement. Not sure it will work with the slanted ceiling, but we'll see what happens!

I got this brass sink for $60 from FBMP. It needs to be polished, BIG TIME. The guy I bought it from saved it from an old house he was working on!

Vintage duck paint-by-numbers from an estate sale last year. I paid $4 each for them.

Two wool military blankets from an estate sale for $10 each

The sofa bed! $150

Three Crate and Barrel metal stools for $50 total

An eagle shelf, also from an estate sale. $10

TWO! Byer for LL Bean cots from FBMP $50 total.

Milk Glass towel bar from another estate sale $5

Striped hammock FBMP $35

Heater from Ollies! $30

The total spent so far, including the shed, is $7,918
Here is a list of the basic things I need for the shed. I'm sure I'm missing things!
Sofa Bed $150

Cots 2 for $50

Rug

Storage ottoman or coffee table

Stools 3 for $50

Chairs (one free garbage chair so far)

Shelves

Sink $60

Countertop (this will be more than $100)

Kitchen cabinets (this will be more than $100)

Hammock $35

Outdoor furniture

Fire pit

Generator (this will be more than $100)

Jugs for water under the sink

Faucet

Pillows

Bedding

Light fixtures and battery light bulbs

Misc Decor
Stay
I'm going to be staying at Pine Hill A-Frame for the 2nd time in a few weeks, so I figured I would share the three A-frames (+ a tiny cabin) that we have stayed in and what we liked about them!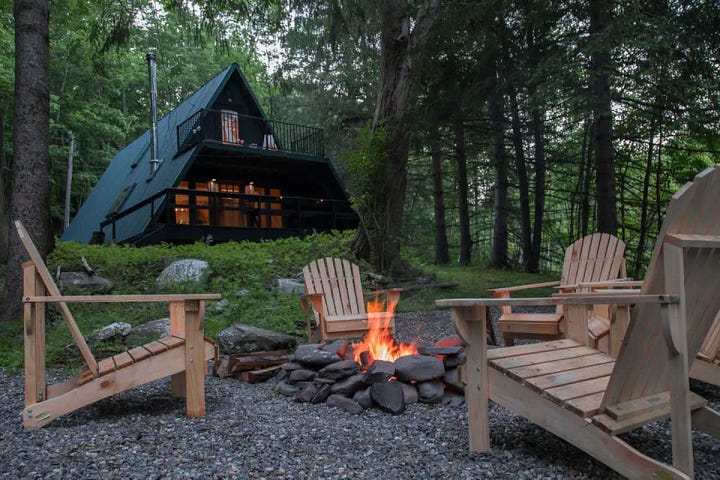 *Pine Hill and Catskills A-Frames generously hosted us at no charge, and we paid to stay in the other two.
Become a paid subscriber to get all of the A-frames I find on the market straight to your inbox.
More for sale…
Cloudcroft, NM 2 bd 2 ba 1,368 sqft Listed by: Thomas Mack 575-491-4347 Aspen Trails Realty 575-682-7778
Neskowin, OR 3 bd 2 ba 1,056 sqft Listed by: The Kelly Group Real Estate
Stryker, OH 4 bd 2 ba 2,759 sqft Listed by: Chad E. Bzovi (419) 349-2576 Whalen Realty & Auction LTD
Clinton, CT 2 bd 1 ba 984 sqft Listed By: Cathy Lynch & Team Coldwell Banker Realty Listing Agent: Dana Weinstein Listing Office: Coldwell Banker Realty
Ortanna, PA 2bd — ba 970 sqft Listed By: Ty Stewart 717-404-4085 Coldwell Banker Realty 717-264-7999
Carrabassett Valley, ME 2 bd 1 ba 1,030 sqft Listed By: CSM Real Estate
Bonner, MT 2 bd 1 ba 1,130 sqft Listed By: Chalmers Realty
Flintstone, GA 2 bd 1 ba 1,160 sqft Listed By: Kristy Hemsley 704-576-6294 Ansley RE|Christie's Int'l RE Kristy Hemsley 704-576-6294 Ansley RE|Christie's Int'l RE
Seymour, TX 2 bd 2 ba 1,304 sqft Listed By: Jon Moss Turner Country Properties
Crestline, CA 2 bd 2 ba 1,088 sqft Listed By: Tina Guyette DRE #02185110 909-454-4814 COLDWELL BANKER SKY RIDGE RLTY 909-336-2131
Port Aransas, TX 15 bd 14 ba 4,202 sqft Listed By: Christopher Shanklin 361-443-1025 Mark Grosse Real Estate LLC
Caddo, TX 3 bd 2 ba 1,330 sqft Listed By: Maggie Burgess 940-779-1111 Possum Kingdom Real Estate Matthew Renfro
McClure, PA 2 bd 3 ba 1,120 sqft Listed By: Jerilyn Katherman 570-412-6163 EXP REALTY LLC - Lewisburg 888-397-7352 Don Katherman Jr. 888-397-7352 EXP REALTY LLC - Lewisburg
Big Bear City, CA 3 bd 2 ba 1,104 sqft Listed By: Louis Palacios DRE #02045509 310-782-5446 Compass 310-241-3038 Listing Team: The Palacios Group, Co-Listing Agent: Anna Hahn DRE #02122300 Compass
Strafford, NH 4 bd 2 ba 1,870 sqft Listed By: Cori McGrath 603-501-0463 The Aland Realty Group