Discover more from A-Frame Dream Journal
The latest A-Frames to hit the market and more.
Over 3,000 subscribers
(Correction!) A California Cutie, a Fun Design Video and an A I Want To Visit ASAP
Sorry guys! I had the wrong price on the Running Springs graphic! It is $445,000, not $125,000
For Sale
Running Springs, CA 3 bd 2 ba 1,200 sqft Listed By:Joseph Rogan DRE #02187572 joerogan@coldwellbankerab.com Coldwell Banker Assoc.Brks-CL 951-244-1867 Listing Team: The Rogan Group, Co-Listing Agent: Christine Rogan DRE #02014129 Coldwell Banker Assoc.Brks-CL
Boyne Falls, MI 2 bd 1 ba 800 sqft Listed by: Lynn Robinson Coldwell Banker Schmidt - Charlevoix 231-838-2024
Camp Project Progress
Not much to report in this department this week! Chris, who is the guy we hired to level our site, finished the job and the total with labor and supplies came to $1,400. He also told me that the campground would prefer if we had our cabin delivered on a weekday, so we took a look at our calendar, and it looks like we can get up there in mid-May on a weekday. I just e-mailed Nate at the shed builder's, and I'm waiting to hear back about the progress, so we might have an actual date for delivery soon! After paying for the site leveling, our total spent is now $9,627, and I still have to buy kitchen cabinets and a countertop of some sort. As I mentioned last week, we are hoping to stay under $10k, so I'm going to have to be really thrifty!
Watch
My friend sent me this, and it's fun to watch if you're into interior design. Architectural Digest gave three interior designers the same A-frame to reimagine, and the result is three wildly different A's. Which one is your favorite?
Stay
I'm sharing this house because I really want to stay here, so I figured you might too. The owners are always posting photos on their Instagram of them by the fire with their cocktails, and it lures me right in. The larger of the 2 A-frame structures is the living space, and it doesn't have a loft, so the whole triangle is one big open structure with TWO walls of windows. It's giving luxury, and I want to be a part of it.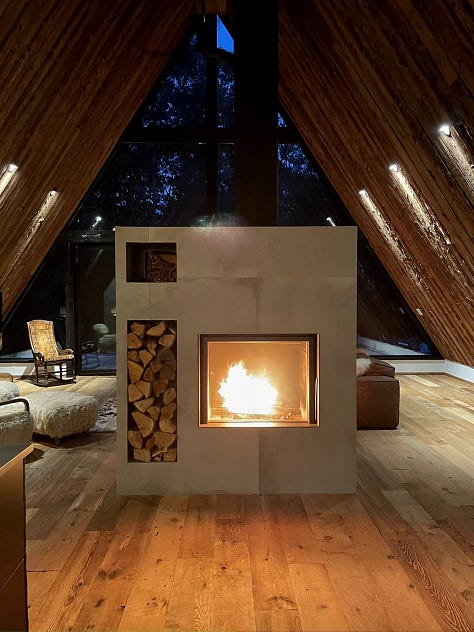 Become a paid subscriber to get all of the A-frames I find on the market straight to your inbox.
More for sale…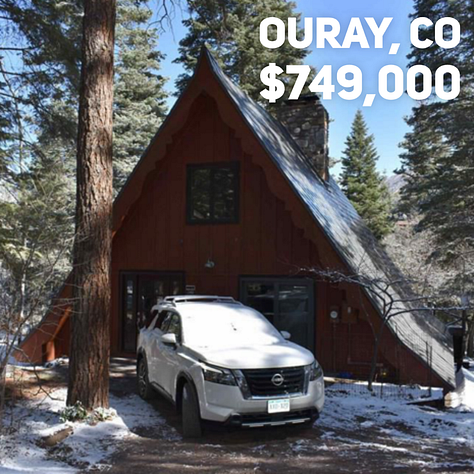 Ouray, CO 3 bd 3 ba 2,545 sqft Listed by: Kayla J Karsh 970-519-1863 Ouray Real Estate Corporation Peggy Lindsey 970-596-1219 Ouray Real Estate Corporation
Florissant, CO 10 Acres Listed by: Natascha McCants Teller Mountain Real Estate
Palomar Mountain, CA 2 bd 2 ba 1,294 sqft Listed by: Bonnie Phelps DRE #01293655 760-533-1742 Palomar Properties 619-576-1826
Hideaway, TX 2 bd 2 ba 1,390 sqft Listed By: Lesa Ward 903-521-7653 Red Bus Realty
Bryan, TX 3 bd 3 ba 1,812 sqft Listed By: Shary Luthe TREC #0697770 409-457-4626 Home Sweet Home Realty, LLC
Davie, FL 6 bd 3 ba 3,520 sqft Listed By: Lindsay Friedopfer 954-483-9043 United Realty Group Inc.
Linden, VA 2 bd 1 ba 936 sqft Listed By: Jim Clark 540-622-4600 Mint Realty
Lewis, CO 2 bd 2 ba 1,430 sqft Listed By: Robin Rice 970-739-0844 eXp Realty, LLC
Fort Worth, TX 2 bd 2 ba 1,660 sqft Listed By: Hayley Wateska 0677973 League Real Estate
Squaw Valley, CA 2 bd 1 ba 1,128 sqft Listed By: Billy J Lovewell 559-287-1896 London Properties, Ltd. Taylor Lovewell 559-840-9049 London Properties, Ltd.
Prineville, OR 1 bd 1 ba 1,188 sqft Listed By: Knightsbridge International
Roan Mountain, TN 2 bd 2 ba 1,728 sqft Listed By: Gemma Mottern 423-707-9921 Weichert Realtors Saxon Clark Jc 423-342-3600