Discover more from A-Frame Dream Journal
The latest A-Frames to hit the market and more.
Over 3,000 subscribers
New Year, New Newsletter.
If you are receiving this, it's because you signed up for the newsletter that I haven't sent out consistently in over a year, but new year, new AFD.
I've always wanted to start a blog on my website to share design inspiration, the cool accounts I follow, and the beautiful A-frame vacation rentals I come across. Adding it to my website felt daunting, but Substack seems manageable, so here we are. The plan is to send out a newsletter twice a week. One on Tuesdays to share the A-frames that hit the market over the weekend and will only go out to paid subscribers. Then Friday's posts will be much like this one. Let me know what kind of A-frame-related content you would like to see! I'm open to any suggestions.
For Sale
Follow
@Rambleaframe is a new build in the Poconos using Den Outdoors plans, and they have been sharing the price breakdown of everything along the way, and I think a lot of you will be interested in seeing the price transparency. I am repeatedly asked how much it costs to build an a-frame (I don't know because I have never built one), and if you check out this account, you can have some of those questions answered!
Stay
The stay of the week goes to this cool place in Mexico because I am not a fan of the cold weather that I'm currently experiencing and would much rather be in a tropical climate. Also, these houses are super dreamy. Click on the photo for more info.
Buy
LEGO recently announced that they will release a new A-frame cabin kit, and it comes out tomorrow (2/4)! Click here to check it out.
AFD Picks
I recently came across this cute little A-frame on Facebook Marketplace (my favorite place to shop) and thought it would be fun to dream up a little bunk cabin for the backyard or even a tiny plot of land somewhere. I tried to find easily accessible and fairly inexpensive pieces to put in it since this is the cheapest (and smallest) A-frame that I have ever seen for sale. This 12x12 structure can fit three low-profile twin beds, and I added a cot to store under one of the beds that can be popped up for a 4th person to spend the night and the lights are battery operated!
The links under the photo below will take you to the sources. Some are affiliate links which I will receive a small commission from.
Watch
There's a new show on HGTV called Rico to the Rescue, and last week's episode featured an a-frame in Colorado owned by Kellie Alkayam from @triangle.cabin. It was so fun to watch! I have followed her renovation journey since she bought her first a-frame nearly three years ago. She now owns three a-frames, which are available to rent here. Also, she used my a-frame wallpaper in this latest house, and I love how it turned out!
Become a paid subscriber to access all of the A-frames that hit the market this week.
More for Sale…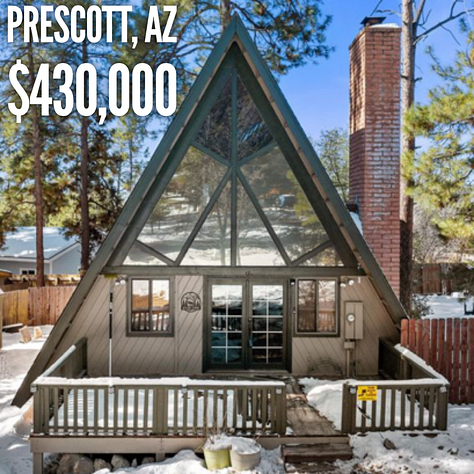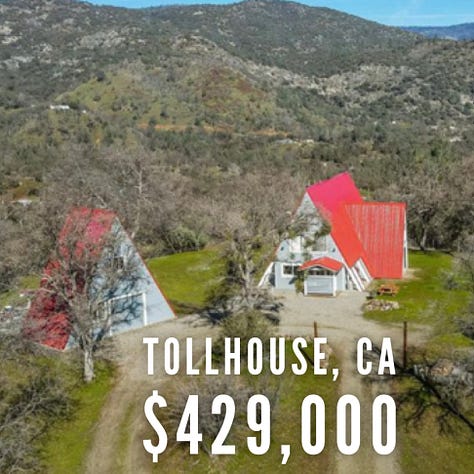 Tollhouse, CA 2 bd 2 ba 2,060 sqft Listed by: Jeri Kuddes Guarantee Real Estate