Discover more from A-Frame Dream Journal
The latest A-Frames to hit the market and more.
Over 3,000 subscribers
Our Cabin Was Delivered This Week!
And some A's for sale....
For Sale
Belfair, WA 1 bd 1 ba 640 sqft Listed By: Tim Lincoln John L. Scott Belfair Kris E. Klusman John L. Scott Belfair
Sagle, ID 1 bd 1 ba 728 sqft Listed by: Teresa Downs 208-290-1756 CENTURY 21 RIVERSTONE
Woodstock, VT 3 bd 1 ba 1,068 sqft Listed by: Livian Vermont 802-488-3488 KW Vermont
Camp Update!!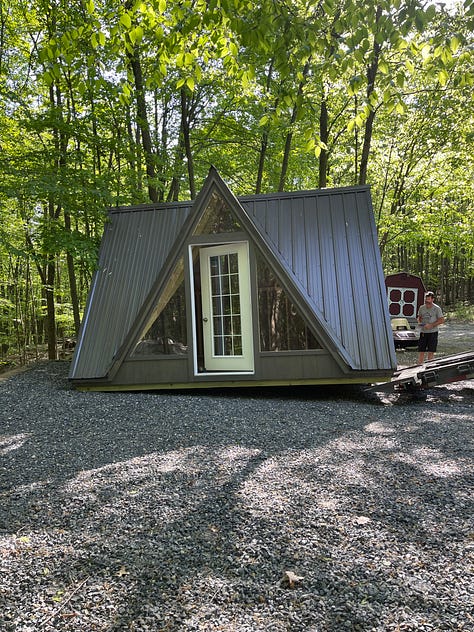 Our little tiny baby cabin was delivered on Tuesday!! We slept over at a friend's campsite since they were delivering it bright and early Tuesday morning, then a huge truck brought it right to our site and dropped it exactly where we wanted it. The delivery process took less than an hour, and we immediately started moving our stuff in, even though we still need to finish the inside. Here is a video I took of the interior!
The first thing on our list is to install some flooring. I want something durable and easy to clean. I am leaning toward vinyl composite tile if I can find it locally because I want to get started Memorial Day weekend and if I order it, it may not get here in time. I'll let you know how it goes. I added some inspo pics to my camp Pinterest board if you want to check it out. I mocked up a pattern that I think I like but I have no idea which colors I want. There are soooo many choices. Here is what I'm thinking for the pattern, but I should probably go with dark colors instead of the ones pictured here:
Stay
This one is new and exciting! I haven't seen this almost tree house before! What's Sugarcreek, Ohio like? This house makes me want to go there.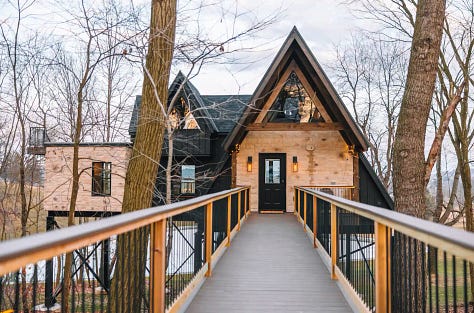 Become a paid subscriber to get all of the A-frames I find on the market straight to your inbox.
More for sale…
Garrison, MN 2 bd 2 ba 1,318 sqft Listed by: Laurie Simonson 763-607-8409 Sandelands Realty Edmund Simonson 218-670-0357
Alpena, MI 1 bd 1 ba 980 sqft Listed by: Mari B Crow 989-356-2181 CENTURY 21 NORTHLAND of ALPENA 989-356-2181
Loveland, CO 4 bd 3 ba 2,540 sqft Listed by: Erin Ridge 3035433083 8z Real Estate
Wesson, MS 2 bd 1 ba 1,250 sqft Listed By: Cathy Magee-Byrd 601-382-4063 Havard Real Estate Group, LLC 601-340-9656
Defuniak Springs, FL 3 bd 2 ba 2,388 sqft Listed By: Bruce R Naylor Naylor Realty And Associates
Poulsbo, WA 3 bd 3 ba 3,666 sqft Listed By: Valerie Gallagher Fathom Realty WA, LLC
Iola, WI 2 bd 1 ba 1,487 sqft Listed By: Chad Will Phone:715-218-8788 JONES REAL ESTATE GROUP
Richmond, MN 2 bd 2 ba 2,028 sqft Listed By: Jamie Gerdes 320-266-0936 Frontier Real Estate Group LLC
Arnold, CA 3 bd 3 ba 1,510 sqft Listed By: Sheila Rosen 02074482 209-795-4455 Dorrington Realty Derek Rosen 02110952 209-795-4455
McLoud, OK 3 bd 2 ba 1,551 sqft Listed By: Chris Eubanks 405-414-4143 Whittington Realty
Dayton, PA 3 bd 3 ba 1,494 sqft Listed By: Melissa Barker 724-933-6300 RE/MAX SELECT REALTY 724-933-6300
Lake Arrowhead, CA 3 bd 3 ba 2,206 sqft Listed By: VICKY CENTER DRE #01025785 WHEELER STEFFEN SOTHEBY'S INTERNATIONAL REALTY